Glass Bead Making Workshops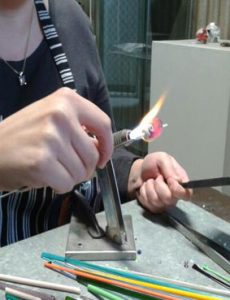 Lampwork glass bead making workshops are run every month in West Melbourne, Victoria by Pauline Delaney. These workshops are run on minor burners.
Three hour Introduction Class
Learn how to make round beads in different colours with dots, frit and simple decoration. You have all my attention in this one on one class.
Cost $190.00
Beginner classes cover how to melt glass and make basic shapes, pull stringers, decorate beads with raised dots, flower patterns, gravity beads and more. Cost $390.00
10am to 4pm                                   Two students per class on weekends
In Intermediate classes students learn to work with enamels, make hollow beads, cased florals, colour reactions and sculpting $280.00 for a day.   See below for more details!
If you are after a personalised one day class I can teach you on your own . Please email and ask for a specific techniques to learn. Cost $60 per hour plus materials.
Pauline also travels to different venues teaching groups of up to ten students. Workshops at beginner and intermediate level can be arranged near you.
If you are a school. Classes can be arranged for Pauline to come to you and teach your students.
Contact Pauline for more information on a lampwork class.
Lampwork Bead Beginner Classes in Melbourne 
Beginners lampwork beadmaking class in West Melbourne at River Studios. Learn how to melt glass and make glass beads, pull stringers and decorate glass beads with dot decoration, flowers and gravity beads to name a few styles in a two day class.
You will make about 25 to 30 beads.
Suppliers, tips and OH&S notes provided.
Feel confident to set up at home or in your studio after this two day class.
Cost $390 all materials included during class.
Reviews:
Pauline taught me Lampworking, she is a skilled and professional teacher and highly talented artist. Her courses are a great way to experience the art and test your own creativity.  Highly recommend her.  Shaun B
Loved the three hour class. Very shaky and unsure at first but ended up loving it and having a lot of fun. Definitely something I'd do again. Carissa S
Pauline is a very patient and great teacher. I enjoyed my class and learned a lot in her one on one day class. Mary T