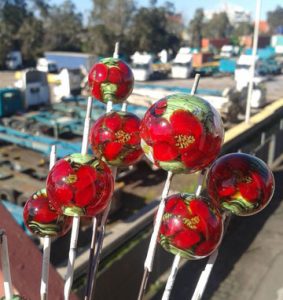 Learn to make lampwork glass beads – glass beadmaking classes run in West Melbourne.
Free shipping on purchases from my website for Australian postage. Postage rates have increased parcel rates for International buyers to $21, no large letters available for international orders. Happy to hold and combine orders for you to save on international postage.
Gift vouchers available for classes.
Pauline Delaney is a glass artist who works designing and making lampwork glass beads and lampwork glass jewellery for galleries. She also produces individual focal glass beads and glass lampwork bead sets for clients and jewellery makers.
Pauline's work is represented in many private, corporate and public collections including The Corning Museum of Glass, New York, USA.
Pauline also runs lampwork glass bead making classes in ger studio at River Studios in West Melbourne, Victoria teaching up to three students how to make lampwork glass beads on a minor burner in a three hour introduction or two day class.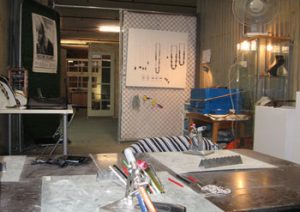 Book now for Pauline to come to you and teach you and your friends.
Workshops can be arranged interstate.
Lampwork glass beginners beadmaking and intermediate classes run monthly in West Melbourne 2020.
Classes are available on week days or weekends. Only two to three students per class unless you request a group. All materials supplied.
View my glass lampwork beads in my studio. Ring to make an appointment. My glass beads are also available from my website. New beads listed weekly.
Like me on Facebook and see what I am working on at the moment.
Select from a variety of styles or commission work to be made for that special design.